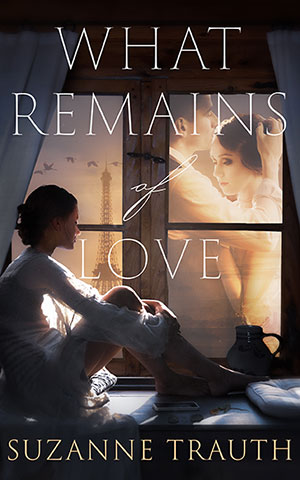 What Remains of Love won first place in the Women's Fiction category of the Firebird Book Awards and was named a finalist by the American Book Fest in the General Fiction category.
"Heartbreaking, eye-opening, and unputdownable, readers will cherish the words on each page as they follow the story through the eyes of Emilie and Kate."
Kristi Elizabeth, Manhattan Book Review
"Beautifully written and timely, What Remains of Love perfectly blends one family's history with today's times. A five-star book by Suzanne Trauth that gives deep insight into two generations and the depth of love and sacrifice made to honor a promise. Beautifully done."
Books and Pens on Green Gables
"Trauth's novel builds on several subtle layers that beautifully blend to create a profoundly moving story. A phenomenal story of life and everlasting love, What Remains of Love will remain with readers long after the last page. Highly recommended."
S. Hinrichs, Chanticleer Review
What Remains of Love has all the ingredients to make up an emotionally driven story about family, secrets, and unrequited love…The flawless character development was the cherry on top—a book worthy of five stars!
Reader Views
What Remains of Love really was a bittersweet story of love lost and found, the sacrifices we make, and ultimately, how even the smallest choices can create ripple effects into the present, future, and beyond. This is a definite five-star experience!
Chick Lit Central
What's New?
A sneak peek into What Remains of Love.
At the reading of her beloved father's will, Kate, a divorced French professor, learns of his affair during World War II with a French artist named …
What Remains of Love by Suzanne Trauth Heartbreaking, eye-opening, and unputdownable, readers will cherish the words on each page as they follow the story through …
Awards
Follow me on Social Media